21 Kentucky Street
Petaluma, CA 94952
(707) 778-8645
email us | map
Monday: 9:30am to 6pm
Tuesday: 9:00am to 6pm
Wednesday: 9:30am to 6pm
Thursday: 9:30am to 6pm
Friday: 8am to 5pm
Saturday: 9:30am to 2pm
Sunday: 9:30am to 2pm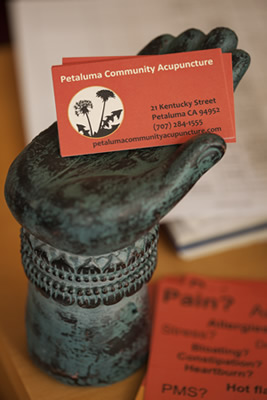 Schedule an Appointment
To book an appointment call us at (707) 778-8645 or visit our online scheduling system
IF YOUR PREFERRED APPOINTMENT TIME DOES NOT LOOK AVAILABLE, PLEASE CALL US! Sometimes we have technical problems with our online booking system and often there are more appointments available than what is showing on our online booking system.
PLEASE NOTE WE OCCASIONALLY NEED TO CHANGE PRACTITIONERS ON A SHIFT WITH OR WITHOUT NOTICE DUE TO ILLNESS, VACATION or other scheduling need. For the widest selection of treatment times select 'no preference' when making an appointment
We offer acupuncture on a sliding scale of $25-$45 per treatment plus a one-time paperwork fee of $15 for the initial visit. We ask our patients to pay according to income using our PCA sliding scale. We rely on the support of our community to keep our clinic affordable. Keeping our prices low makes it possible for our patients to come for treatments as frequently as they need to, thereby speeding the healing process. We do not accept insurance. We can offer you a receipt that you can submit to your insurance for reimbursement but we cannot guarantee it will be covered.
Please be aware that we're really firm about our 24 hour cancellation policy and you'll need to pay a $25 fee for late cancellations or missed appointments.
If it's been over two years since you're last visit to PCA, you will need to schedule an "initial treatment". We will need to get updated information about your condition in order to design an appropriate treatment plan based on your current symptoms.
Check out the "What to Expect" section located under "About PCA" for more information.